Home Tour Dates Biography Albums DVD Photo Gallery Fan Club Contact Us
THIS 'n' THAT ..... This page will feature up to date news items for your interest.
Updated 20 Feb 2018
WHERE TO NEXT for BRIAN ....
♦Barham Country Music Stampede - Thursday 22nd February 2018 (Performance & Live DVD recording)

♦March, 2018 - Terara Country Music Campout and Gunnedah Country Music Festival

Now Only Days away ....till production commences on the DVD. Brian and his team have been diligently planning and preparing it's creation. The band have been rehearsing, the camera crew have been putting together the set & deciding on shots and angles, audience tickets are on sale, soon it
will be lights, camera action. CLUB BAHAM will be the host...... FEBRUARY, 22nd 2018 is the date...... Special thanks go to the supportive committee of the Barham Festival. The limited release DVD is scheduled to launch mid this year. Pre-Purchase orders are being taken & welcomed, visit the DVD page for the link to secure your copy. More details will be posted as they come to hand. Keep watch on this website and face book page for updates.
September 30th 2017 marked a very sad occaasion for Brian and his family. Dear family member and very close friend, STAN MOULDEN passed away, aged 93 years young. Stan, and his beautiful wife Melva who lived in Murray Bridge, SA enjoyed a long-lasting and treasured friendship with Brian, Michele and their family . Stan and Melva would travel the length and breadth of Australia, in the years prior to his ageing, to spend time with the family and attend many concerts. We are much the poorer to have lost him and oh so blessed to have known him and his friendship valued forever, not only by Brian and his family, but to all those who have known him. Our thoughts are with Melva, Lyn, Paul, Danny and Mark and their families.


Brian Letton Fan Club Members.
The March 2018 newsletter is currently being compiled, please forward any relevant information for consideration for inclusion.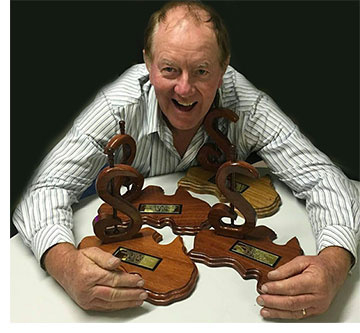 The brand new release, album Number 3 on his own record label is somewhat of a personal achievement for Brian. Perhaps 1st and foremost, it is representative of a new phase in his expansive career. With the steadfast support of his good mate, Rob Breese, Brian stepped out on "his own" into Rob's Beaten Track Studio with a "head full of ideas and a burning desire". Those concepts have now culminated to produce a recording that delivers some previously untouched sound scapes for the excellent song writing ability and uniquely warm, melodic voice of one of Australia's most gifted and enduring talents. "Western Australia is Calling Me Home" has not only been released on his own recording label, Brian Letton Recordings, but Brian has independently produced this CD. The musicians he handpicked, the arrangements and presentation are reflective of his personal influence and of course, with exception of 3 songs, the tracks are self-penned by Brian. Definitely, a remarkable achievement. With a great supportive team around him, this recording proves that Brian has begun to find growth in his lyrics and the confidence to embrace technology and develop his own productive sounds and techniques. Brian enlisted the talents of some of his family to, in his own words "add their own individual bit of magic" to the production. His father, Harry now in his 80s, is featured in the song "Where It All Began" and brother Darryl, sons Trevor and Matt combine with an extremely talented group of musicians and harmonists to make this a stand out project. As Brian's staunch supporters have already learnt, Brian writes and sings of his country and his fellow man with a rare feeling—he writes of things he knows, understands, loves and believes in. The songs on this album connect on many different levels, they are all inspired by his "home". Brian is quoted "I'm constantly inspired by my early days, being raised on the family farm near Ravensthorpe, WA—a special time & place—and Western Australia, of course, is where, for me, my career 1st began and will always be "home". There are 16 tracks on the CD, including 2 bonus tracks previously released on his 1st professional album, which will no doubt highlight Brian's newly voiced personal creative influence. It's hard to pick between songs, but the sincerely reflective and thoughtful soundtrack—"Where It All Began" is surely a highlight and the soulful "The Lights of Home" that perhaps not many other vocalists could equalise, is making it a winning combination, particularly at Brian's live performances. That said, it is no wonder that the 1st single to be "lifted" for radio airplay, is the "punchy" - "G'day From W.A" . This "sit up and take notice" album will surely be a hit with Brian's legion of fans and no doubt see his career going from strength to strength.
Successful 2018 TAMWORTH COUNTRY MUSIC FESTIVAL

- Another successful Tamworth festival over for another 12 months. And Phew, !! it was a very hot and hectic one for Brian this year. But the supporters didn't seem to mind, loyally turning up to support his shows in numbers at the KOOTINGAL BOWLING CLUB.
STAN COSTER MEMORIAL AWARDS @ BUNGENDORE MUSTER 2018
Brian is being labeled "The king of Bungendore!" He dominated the Stan Coster Memorial Bush Ballad Awards, snaring four of the seven awards on offer. Being named the winner of the Male Vocal award with The Boyup Brook Waltz, Album of the Year for Western Australia Is Calling Me Home, the Comedy award for She's Gotta Be Emu Export and the Songwriter award (with Warwick Edwards) for The Legend Of Wally Dowling. On his facebook post, Brian said that he is extremely honoured and considering the company he was in, it was huge. And even more rewarding is that it was "his own CD", Western Australia Is Calling Me Home" that helped him achieve the result.
BRIAN LETTON OFFICIAL.

Find Brian on Facebook. Like his page for up to date information
New payment Methods Brian offers two (2) new payment methods for purchasing CD's..
DIRECT DEPOSIT.. email for details
and
CREDIT CARD Payment via Pay Pal.. see Albums Page to BUY NOW.


Mastercard & Visa payments, via PayPal Active Now
Brian Letton Recordings....





Another exciting milestone in Brian's remarkable career, the conception of his own record label - Brian Letton Recordings. 'Any Dream Will Do' holds pride of place as the 1st release on the label, BLR001.